Juliette Liautaud
2019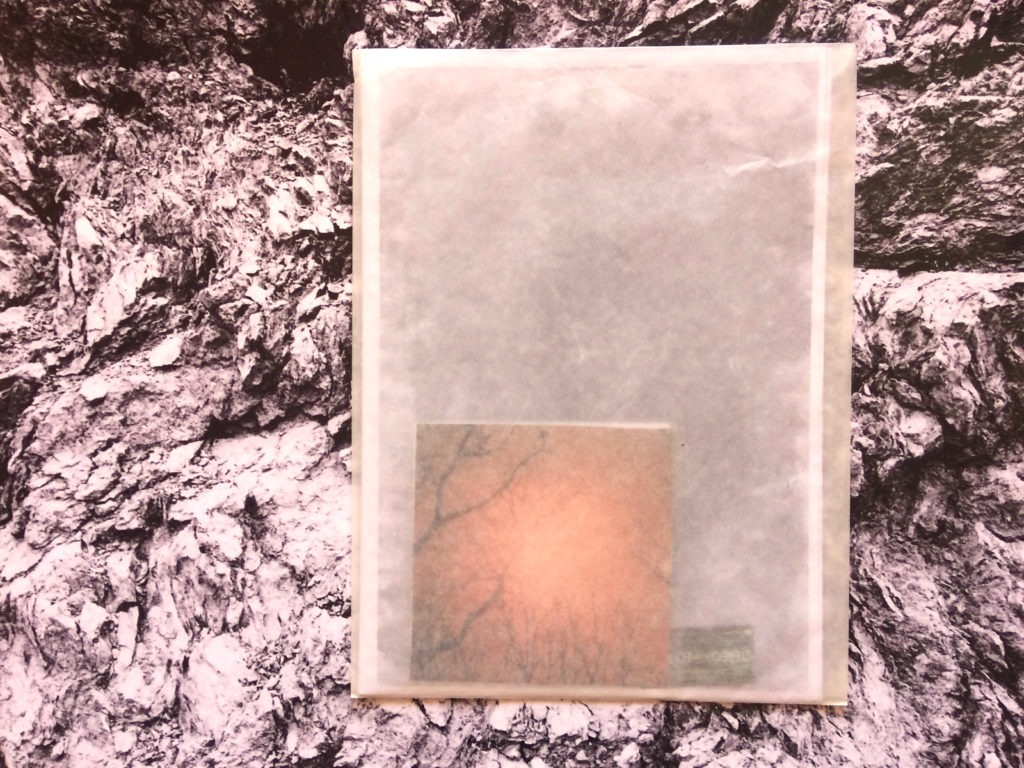 Des photogrammes de plantes (des anthotypes, technique de photographie primitive naturelle à la chlorophylle) sont fixés par une photocopieuse.
D'ordinaire les anthotypes disparaissent après exposition au soleil ou s'ils sont conservés doivent s'observer le soir ou à la lumière d'une lampe de poche. Ici, la lampe est remplacée par celle de la photocopieuse qui illumine et fixe mécaniquement les images.
Ces monotypes aux traces légères entourent une impression en couleur : un photogramme exposé pendant le solstice d'été, le 21 juin 2019, jour d'ensoleillement le plus long de l'année.
Au croisement de deux techniques, l'une artisanale et primitive, l'autre technique et mécanique, l'édition est composée d'un fanzine léger aux pages non reliées, glissées dans une enveloppe de papier cristal.
Trois pistes sonores composées durant les chaudes journées de juin accompagnent les images. Les compositions à la langueur et lenteur contemplatives, seulement nommées par leurs durées, semblent indiquer des heures de ces journées ou pourraient aussi évoquer le temps d'exposition des anthotypes au soleil.
Le soleil, présent comme un indice, sur la photographie imprimée qui contient le CD.
ECOUTER / LISTEN (Solstice) I (10:24)
SoundCloud
https://soundcloud.com/stereoeditions/solstice-i
*
Photograms of plants (anthotypes, a natural primitive chlorophyll photography technique) are fixed by a photocopier.
Usually anthotypes disappear after exposure to the sun or should be observed in the evening or in the light of a flashlight. Here, the lamp is replaced by the photocopier.
These light monotypes surround a color print : a photogram exposed during the summer solstice, June 21, 2019, the longest sunshine day of the year.
At the intersection of two techniques, one artisanal and primitive, the other technical and mechanical, the edition is composed of a light fanzine of unbound pages, slipped into an envelope and a CD.
Three tracks composed during the warm days of June that accompany the images with languorous and slow contemplative compositions, only named by their duration, and seem to give hours of the day or evocate the time of exposure of anthotypes to the sun.
The sun, as a clue on the photograph that contains the CD.